Now that Christmas is out of the way, it's the perfect time to give your marketing material a new look! Keeping it refreshed means your business is always looking contemporary and professional. With offers on our most popular display stands, banners and flags, plus some special deals on print, you can get a head start on your marketing plans for the New Year. But hurry as all offers are only available until 31st January 2020!
Up to £200 off Selected Fabric Display Stands
Not only are our fabric stands real head turners at any show or event, but they also work successfully in offices as colourful room dividers or striking focal points in reception areas and meeting rooms. With easy to assemble frames and vibrant double sided covers, what's not to like!
If you would like to see how one of these stands would work for your company, we would be happy to pop over with one of our demonstration stands so you can see what they look like in your own environment!
Stage 18 – £100 off!
This is an incredibly versatile stand. Great in a reception area, board room or office. It also makes a fantastic exhibition panel at any pop up show, easily fitting behind a standard display table. Fantastic as a backdrop for photos and selfies too.
This month you can pay just £289 plus VAT, (usually £389 plus VAT) for our Stage 18 with a double sided print cover. So, you can get double the bang for your bucks!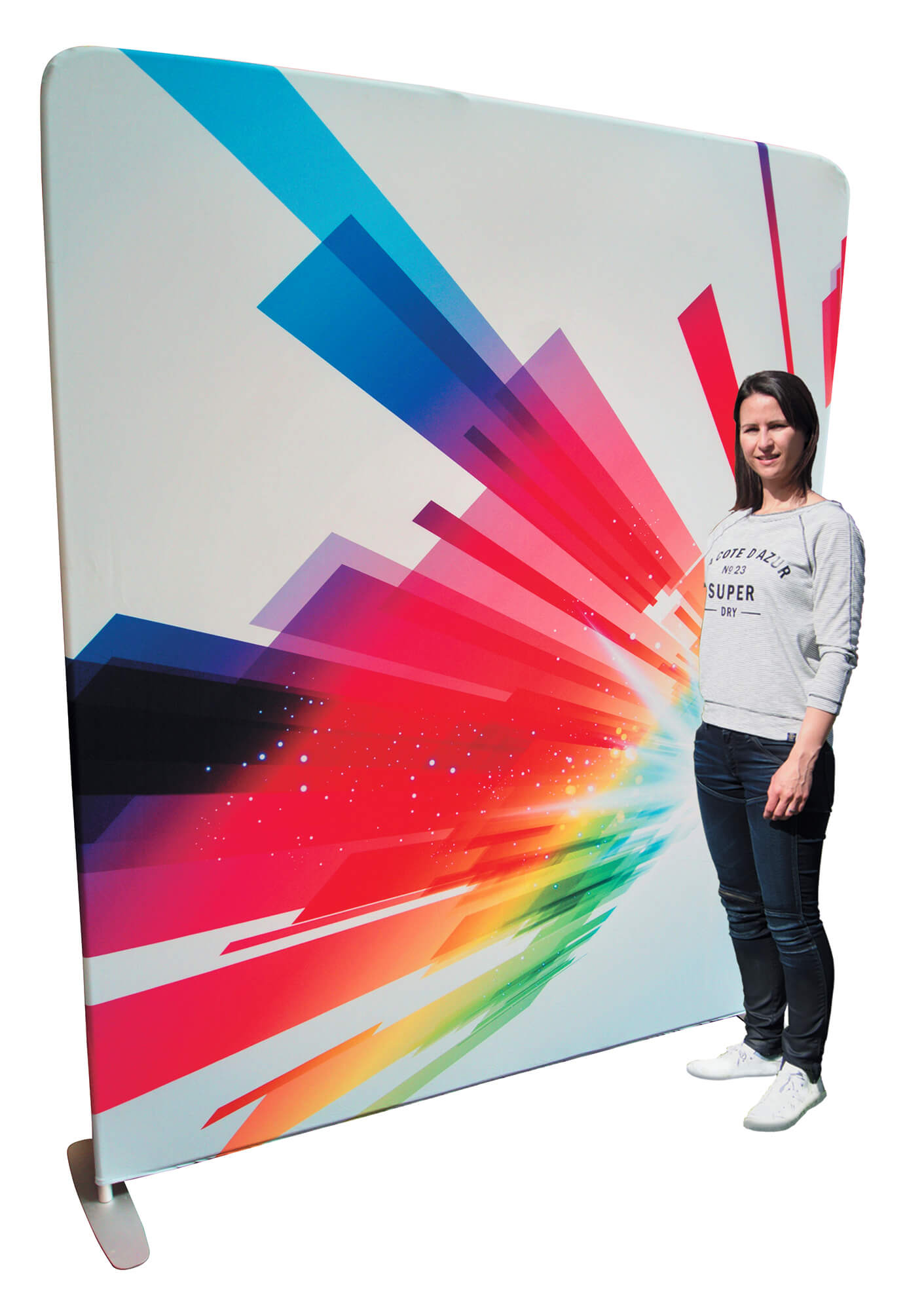 Curve 24 – £100 off!

If you are needing a slightly larger stand then our top selling Curve 24 is the one for you. Assembly is easy, its seamless graphic is bound to be a head turner. At £319 plus VAT, you can save £100 if you buy this month! (usually £419 plus VAT).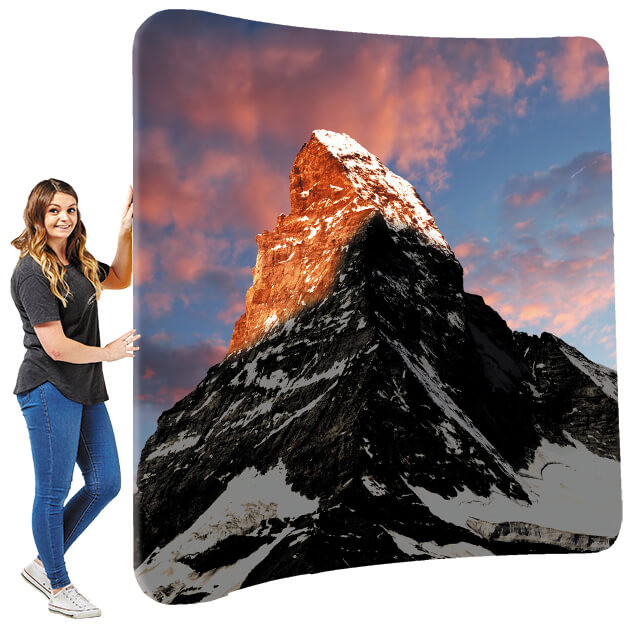 Curve 50 – £200 off!
If you have a large display area to fill, there are no limits with our five metres wide Curve 50. These were even used in the recent election campaign. Saving a whopping £200, the Curve 50 fabric display stand is a real winner this month at £719 plus VAT (usually £919 plus VAT).
Baby Python – £50 off!
With its curvy base our Baby Python stand is far more imposing than a roller banner stand and its double side graphic enables you to have two different messages, one for each side. Saving a fantastic £50, you can buy a Baby Python for just £186 plus VAT! (usually £236 plus VAT) in January 2020.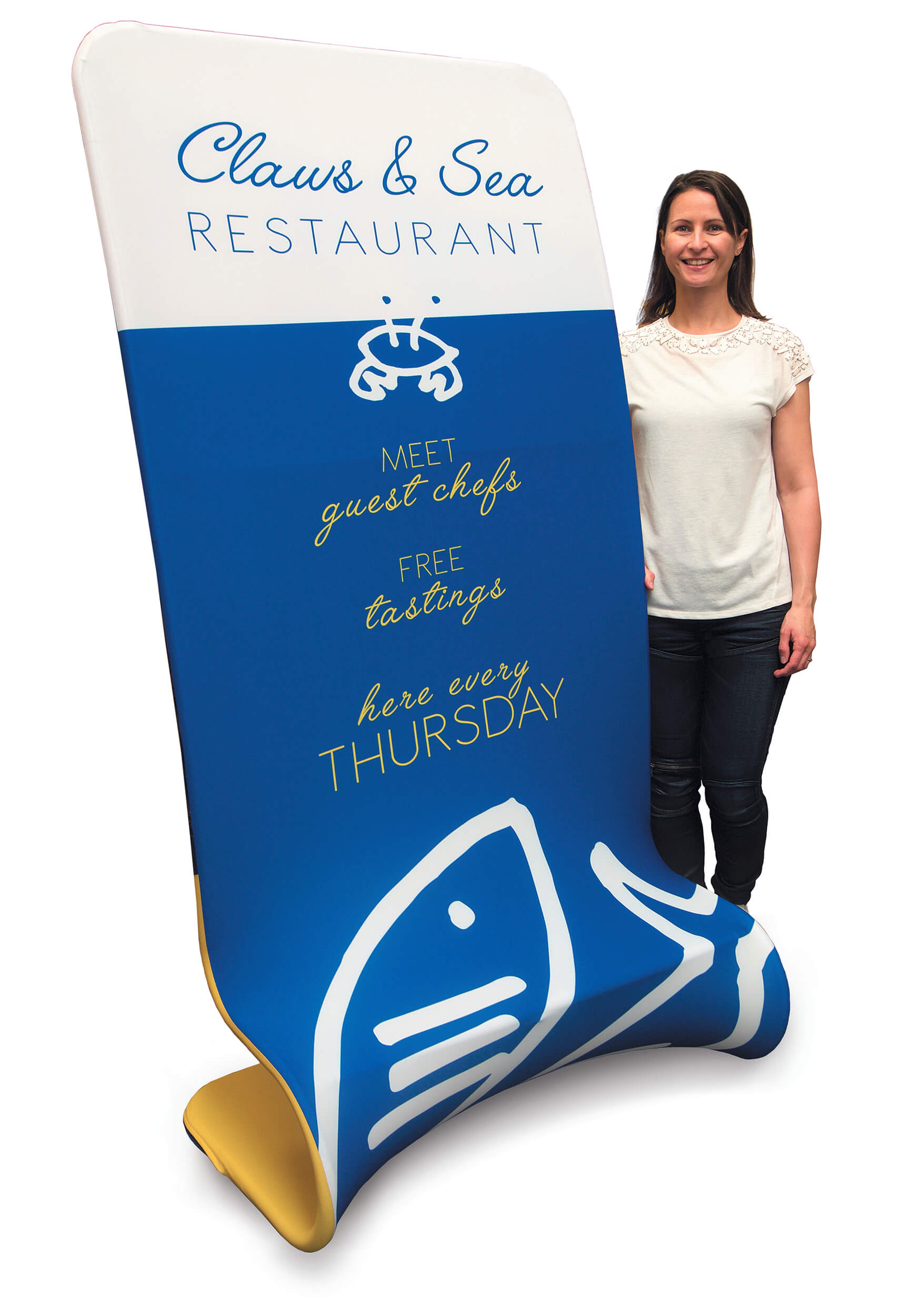 Click here to find out more about the display stands on offer.
Flag it up!
What better way to promote your brand than with a flag? Great in outdoor spaces, on forecourts and in car parks; equally effective indoors at an event or as a location marker.  With a choice of shape, height and stand you can tailor make the flag to your requirements. This month we have offers up to £40 off, so why not take a look?
Click here to find out more about the flags on offer.

Great Savings on Bio Laminate Business Cards
Business cards continue to be one of the most important marketing tools. First impressions count so making sure your business card reflects your brand and your business is key. Our printing.com range of cards are finished with a special bio-degradable laminate so your cards can look great whilst doing their bit for the planet too.
This month there are a range of savings on our most popular bio laminate business card finishes with prices starting at just £21 plus VAT (usually £41.40 plus VAT) for 500 Luxury Bio Business Cards. Why not give us a call on 01543 261220 to discuss what design and finish may work for you or to request free samples.
Click here to find out more about the business cards on offer.
Appointment Cards – 60% off!
Calling all hairdressers, beauty salons, nail bars and dentists! In fact, any company who is looking for a versatile marketing tool. Our Appointment Cards are gloss coated to the front and with an easy to write finish to the reverse. They can be used for jotting down appointment times, product information or anything else that is useful to your customers. Available in business card or pocket size and 60% off this month. For example, you can purchase 1000 A7 Appointment cards for just £29 plus VAT (usually £72.90 plus VAT).
Click here to find out more.
Savings on Flyers & Leaflets
Even in the digital world we live in, there is still place for printed promotional material within your marketing mix. A tangible way of promoting new services, special offers, or just reminding clients what you can do to help them.
Promo Flyers – up to £40 off!
Our top selling Promo flyers are ideal for handouts or popping though letterboxes. Thicker and more durable than a leaflet and printed on both sides as standard. This month you can get them for only:
£90.80 plus VAT for 5,000 A6 size (usually £100.80 plus VAT)
£158 plus VAT for 5,000 A5 size (usually £198 plus VAT)
Premium Gloss & Silk Leaflets
Our gloss and silk are available on a whole range of size, with or without a fold, all printed in full colour to both sides. Throughout 2019, we continually reviewed our leaflet prices to ensure we offered you the very best deal. But we have managed to take a little bit more off the price this January. Why not call the Raphael team on 01543 261220 to discuss your marketing plans so we can recommend the size and finish that will work best for you.
Click here to find out more about flyers and leaflets on offer.
Corporate Letterheads – £10 off!
Stock up on our best-selling letterheads in January whilst they have £10 off! They are ideal for transactional mail like invoices and statements. Or give more weight to your sales letters or quotations by printing them out on this super smooth thick paper. In January you can now pay just £58.40 plus VAT for 500 or £72.80 plus VAT for 1,000!
Click here to find out more about the corporate letterheads on offer.
Also available….
And if all of that is not enough, we also have offers on PVC banners and our standard Blurb roller banner stand. Click here to find out more.

If you are interested in finding out more about our January offers, please give us a call on 01543 261220, drop us an email or pop in for a coffee and a chat at Raphael Design Limited, Raphael Court, Upper St. John Street, Lichfield, Staffordshire WS14 9DX.
Happy New Year!
Please Note
All offers are available on orders placed and artwork approved by 31st January 2020.
All prices quoted include delivery but exclude design costs (if required).